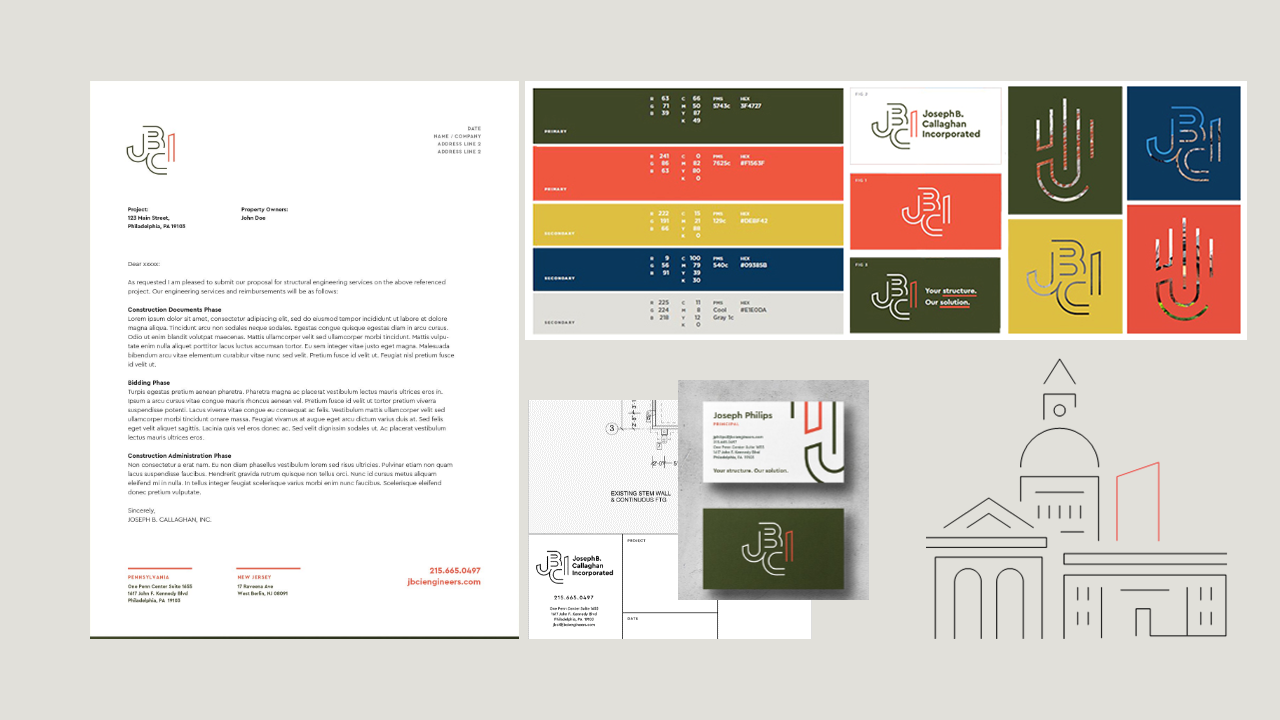 In a year full of uncertainties, JBCI took a proactive approach and decided to rebrand. We took the time to reevaluate our core values, services, key differentiators and how we serve our clients best. Rebranding offered stimulation the business needed to create new growth. While so many companies offer the same (or similar) services, JBCI wanted to differentiate ourselves within the market. We wanted to break away from the standard "engineering blue," so we will stand out from everyone else.
This rebrand was important to re-establish JBCI as a quality, current, competitive engineering consulting firm and adequately reflect the amazing JBCI team.  I enjoy getting to work and collaborate with my smart, talented coworkers everyday to come up with unique, quality solutions to meet our clients needs.  – Colleen Boulden, Sr. Project Manager
Our new visual identity, which encompasses a versatile logo, captivating color palette, assertive typeface and a redesigned, content-rich website, looks the way we feel: fresh, modern and ready for whatever's next. We wanted a brand identity that represented us visually and graphically, an identity that is different from others in the market because we are different.
JBCI is continually trying to improve and we wanted our new look to be clean and well thought out just like the work we produce. The new branding is something our entire team is excited about and proud to show off to clients, peers, and also our friends and families.  We always talk about our projects and how "we do cool stuff!" Our rebrand helps reinforce that. -Erik Villari, Principal
This rebrand, facilitated by Push10, is the outcome of a thoughtful internal strategic planning process that began in 2019, two years after passing the half-century mark as a business. We seized the opportunity to confirm our core values while embracing the virtues of change during a year that inspired reflection and flexibility.
We honor the history of the structures around us, preserving them for years to come.  Our new branding honors JBCI's history and renews our look, making us ready for a bright future! – Jessica Clifford, Principal
The biggest advantage to refreshing the look and feel of our brand is the ability to reach new customers. However, we didn't want to leave our existing customers behind. When you focus on new aspects of the business and promote them correctly, people will notice!
Rebranding is a great way to show how JBCI is excited for the new future but not forgetting how it all started and the people along the way who have helped us become what we are.  JBCI exists to assist our clients in taking their building concerns off their plate and putting them on ours.  -Mike
While our branding has changed, our mission remains the same and our vision remains strong. As we continue to build on the foundation laid by Joseph B. Callaghan all those years ago, we continue to take steps in the present that will assure JBCI's viability for another 50 years.
JBCI is here to preserve the work of those that have gone before us while keeping buildings safe and functional for the current market. I love feeling like I make a difference everyday. I wake up and I am excited to see how I can help out with our future projects!  – Rebecca Gavin, Staff Engineer