Written by Jessica Clifford, PE; JBCI Principal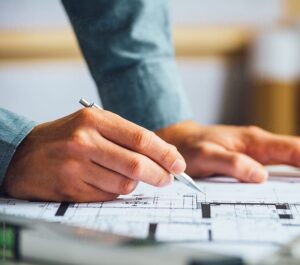 Our clients come to us for various services and many times in an emergency.  The majority of the emergencies we respond to are façade related – a section of masonry fell to the sidewalk below, a precast panel displaced due to failed anchorage, a storm resulted in a significant leak and damage to interior finishes.  Each of these problems could have been prevented with regular façade condition surveys and maintenance.
A façade condition survey evaluates most elements of the building envelope including the walls, windows, and roofing terminations.  It identifies distress and deficiencies in the façade construction that could lead to the types of emergency situations listed above.  The subsequent report describes recommended repairs and maintenance, prioritized based on urgency.  An owner can then budget for this work in the future.  The goal is to avoid the inevitable, substantial, unexpected expense in response to an emergency event, that could have been prevented for a much lower cost.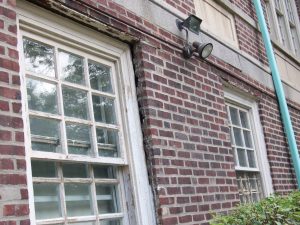 When do you need a façade condition survey?
If you've never had one, it's time!  New or old, the exterior envelopes of your buildings are what stands between you and the elements
Newer construction buildings can use façade surveys to identify shorter term maintenance items.  Certain sealants only have a usable lifespan of 10 years – the first line of defense against water intrusion – yet most owners we have observed will go more than 20 years before replacing their building's sealant joints.
Older buildings benefit from façade surveys by identifying distress that occurs after decades of exposure to the elements and the lack of a regular maintenance program.  Many older types of construction are no longer used today because of the lessons we have learned about how they perform over time.  For example, when the use of structural steel began the industry did not understand that embedding unprotected steel in porous, masonry wall construction would lead to continued exposure of the steel to moisture, causing it to corrode, expand, and displace the masonry around it.  Most of the distress we identify in older masonry façades is due to corroded embedded steel, and it usually can't be seen from the ground.
If you are experiencing water intrusion, it's time!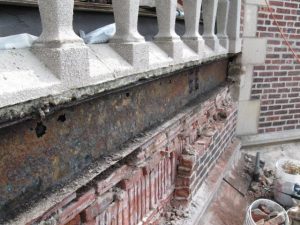 Water damage can wreak havoc on structures.  If you are experiencing water intrusion that cannot be identified as a failure of the roof or interior plumbing, it's time to consider the façade.  Sealant joints, flashing transitions, window assemblies, and more, are all points of vulnerability to water intrusion.  In addition to the costly damage to interior finishes and potential health concerns, as described above water intrusion can also cause serious problems to the structural support of the façade as well.
If you can see visible distress, it's time!
We hope that this isn't the case, but if you see cracking or spalling in any area of your exterior, it is a serious concern and should be evaluated immediately.
Why are façade surveys important?
First and foremost, your façade can be a life safety liability.  Façade elements can spall (break off), sections of masonry can displace outward, and veneer anchorages can fail, causing a piece of your building envelope to fall several stories to the ground.  This puts the building inhabitants and passersby in danger.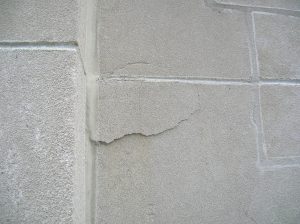 It can cost much more in the long term to not evaluate the façade periodically because you'll be waiting for an emergency to happen.  A reactive maintenance approach can cost upwards of 10x the cost of a proactive maintenance approach with regular surveys and minor repairs done every few years.
The cities of Boston, Chicago, Cincinnati, Columbus, Detroit, Milwaukee, New York, Philadelphia, Pittsburgh, San Francisco and St. Louis have implemented ordinances that require periodic inspections of building façades that meet specific parameters.  Though outside these municipalities façade inspections are not a legal requirement, the buildings located outside these cities are no less vulnerable.  In fact, liability for non-ordinance areas increases as inspection requirements become more common. Click here for more information on Philadelphia's façade ordinance.
What are the outcomes of a façade condition survey?
A façade condition survey report should include the following:
Description of the building and what is known about its construction and previous repair and maintenance history
List of observed distress and maintenance concerns, and where on the building they occur
Description of the causes of the distress or maintenance concerns
Recommended repairs prioritized based on urgency
Cost estimate for the recommended work
The report ultimately becomes a tool for an owner and association to help manage budget and cash flow over time to avoid special assessments and liability issues that come with emergency repairs.  Almost all condominium buildings obtain regular capital reserve studies, but most reserve studies do not include façade maintenance as a budget line item, and it's even less likely a reserve study will include evaluation of the façade from a vantage point other than the ground or projecting building elements like balconies.  Major critical repairs due to neglect can cost in the millions for a high rise residential structure.  This knowledge will help your association fully understand the reserves needed to avoid assessments and set monthly dues at an appropriate level.
Every building is different, so the condition survey, and ultimately the report, will be custom to the building.  As you know, maintenance is not one-size-fits-all and the only way to prevent disasters is through knowledge.  You'll understand the ins, outs, and quirks of your building that will serve you well in long term decision-making.
If you are unsure about the condition of the exterior of your building, it may be time to call us for an assessment and discuss our other services. To speak with an engineer directly, call Diane Goschler 215.665.0497 x111 or email dgoschler@jbciengineers.com.
About Jessica Clifford, PE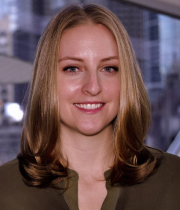 Jessica began her career at Joseph B. Callaghan, Inc. in 2006. Over the past 14 years she has contributed greatly to the team; specializing in building envelopes, water abatement, building technology and historical preservation. She earned her license and was promoted to Principal. She brings extensive knowledge and professionalism to every client relationship and continues to manage many of the firm's larger critical projects.
Jessica Clifford – jclifford@jbciengineers.com – 215.665.0497